With the improvement of people's living standards, the transformation of the surrounding environment has been strengthened, especially in the design of some commercial places and residential buildings. And building materials are becoming more and more abundant and novel, a single material is not enough to meet the design needs. The use of metal, wood, stone, paint, etc. is the best way for architects and designers to create a different rhythm and architectural texture.
Perforated metal panels are widely used in architecture as an emerging durable material. This perforated metal sheet, through different processing designs, can be used in a variety of ways by the designer to create functional and decorative architectural designs.
Perforated metal panels have many practical and creative applications in the architectural field and can present many unexpected designs. If you are missing some inspiration and imagination, here may be a surprise for you.
What Are the Advantages of Perforated Metal in Architectural Applications?
Perforated metal panels have outstanding functional and decorative features that bring many benefits to architectural design and applications.
This is the most basic characteristic of building material, and whatever metal is used to make perforated panels, it is durable. Metals such as aluminum, steel, stainless steel, and copper can be perforated and have varying degrees of durability.
Easy to fabricate and process
The desired architectural design is not just achieved on the drawing board, it also relies on the malleability and ease of processing of the material. Whether it's a complex hole pattern or an intricate sheet shape, perforated metal can be fabricated to meet a wide range of creative design needs.
Unlimited appearance combinations
Perforated panels can be carefully designed with hole sizes and patterns as needed. Different sizes, densities, and shapes of holes can be used to create different visual effects to create a stylish and modern aesthetic. The perforated panels can be customized in shape and size by cutting and laser cutting. Bending and corrugated panels are also available.
Perforated panels support a wide range of textures, finishes, and colors to match your overall architectural design style.
Ventilation and light permeability
Regulating the flow of air and light inside a building is also something a good designer should consider, and perforated panels can achieve this by adjusting the size of the holes and the gap between panels.
Water can slide directly from the holes and the perforated metal sheet will not hold water and can easily remain dry.
In the field of acoustics, sound absorption is one of the most important measures to control noise and improve indoor sound quality. Perforated panels have exactly this advantage, as they can diffuse sound, suppress noise, and also be used to prevent echoes.
As a metal building material, high-strength metal material can be chosen to make high thickness perforated panels, which can provide excellent load-bearing capacity. It is commonly used in the construction of stair treads, decks, and platforms.
Privacy protection, shading, and partitioning
While these are all very common features, it has to be said that perforated metal panels can be used to achieve these in a more aesthetically pleasing design.
Economic and environmentally friendly
Yes, architectural perforated products are often made of metal materials that are not only low-cost but also recyclable. This provides advantages such as reduced energy consumption and minimized resource consumption.
Perforated Metal Architecture and Design
So many functions and features allow architects to use perforated panels for a wide variety of projects and applications.
Building facade and cladding
Perforated metal facades are the most visually striking architectural application and are usually made up of a certain number of perforated metal panels put together. They can be customized with patterns and shapes to achieve different looks and designs.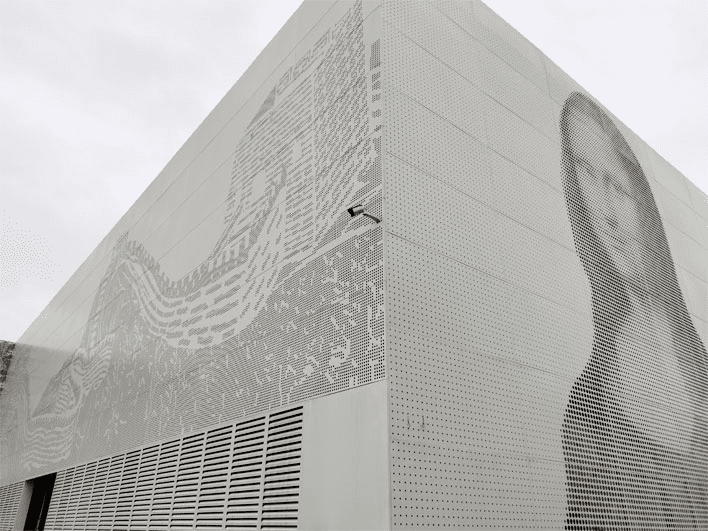 Interior or exterior walls
The same is true for perforated panels in the form of patchwork, which can also be used for back walls. Perforated metal walls can achieve almost any of your creative designs and are fire-resistant.
Another application with a perfect combination of functionality and decoration is often found in office areas, dining rooms, living rooms, exhibition spaces, or partition designs between drawing and dining rooms. It is both beautiful and practical, enhancing privacy while presenting a stunning visual effect.
Perforated metal ceilings
The ceilings also feature a modular design of perforated metal panels joined together for easy installation and maintenance. Very durable and fire-resistant.
Perforated protective fence
Perforated metal fences have a sleek, modern look, long-lasting durability, and can be used outdoors without worrying about the effects of weather and other environmental factors that can cause rusting and peeling. And it can also provide some privacy protection.
Perforated stair treads and handrail railing
The load-bearing capacity of perforated sheet metal allows it to be used for stair treads, and it also has some anti-slip properties that make it less likely for people to fall. It can also be used as an infill panel for any stairs and handrail balusters.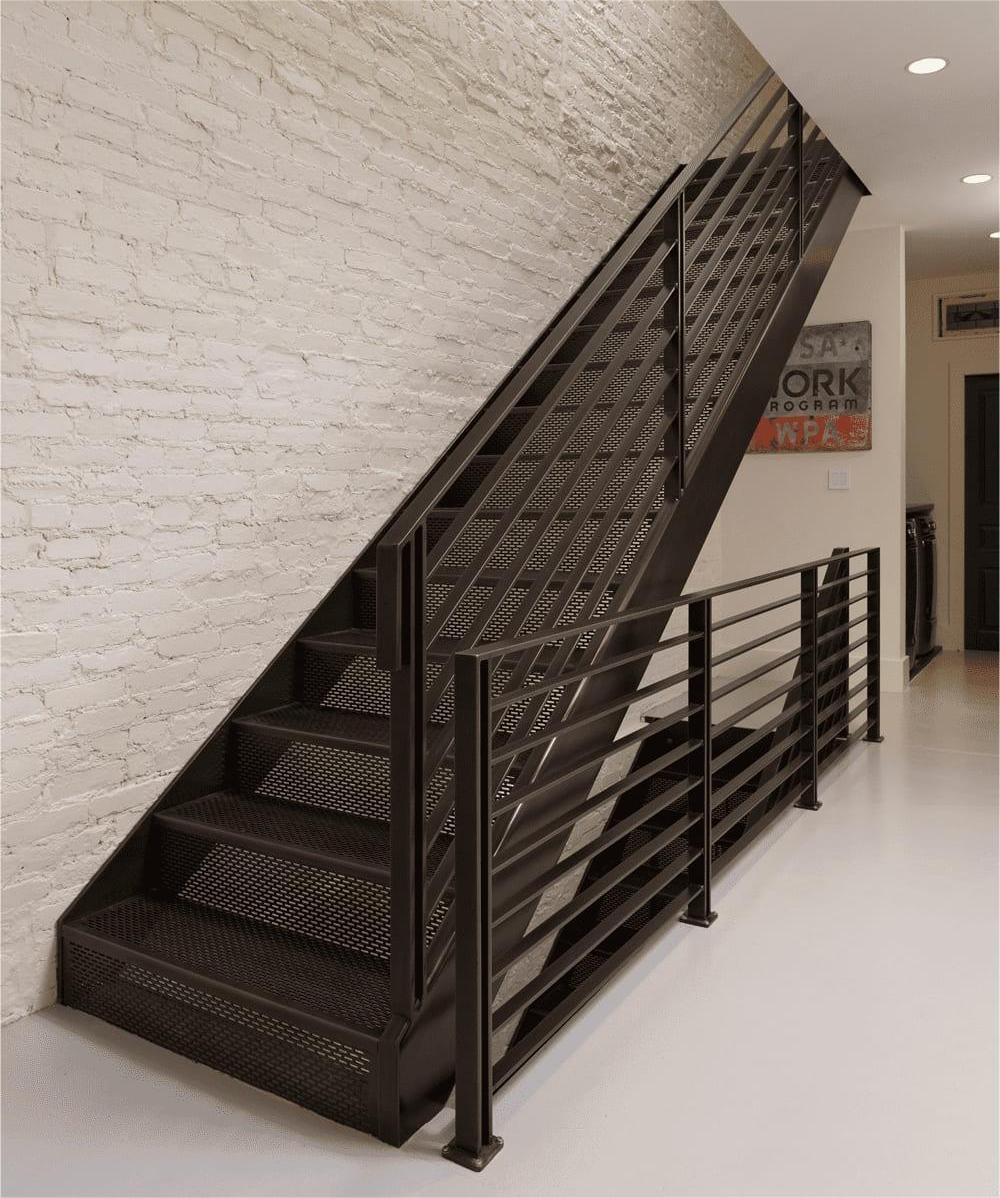 Perforated metal screens can also be used as outdoor shades to reduce the impact of sun and rain on the exterior of a building. Great shade can be provided on the wall or on the ground.
Perforated metal signages
The perforated panels are stitched together to form a large signage that can be used for branding or advertising signage. Whether images, logos, photos or text can be achieved on perforated panels.
Floors, walkways, and decks
The perforated sheet metal's load-bearing capacity, water filtration, and anti-slip properties allow it to be used in these applications where people step on it, usually using heavy-duty (thicker) perforated sheet metal construction.
Indoor or outdoor privacy screens
Indoor privacy partition, outdoor privacy barrier. While gaining semi-privacy and security, the space remains comfortable and breathable and creates a wonderful light and shadow effect.
Dongfu's Perforated Metal Panels
Have you learned how to use perforated metal for aesthetics, airflow, sound, and light? Knowing the role of perforated products in architectural design and coming up with some ideas? So, it was time to implement it. Whether you have a design in your mind or already on the architectural drawings, we can help you to turn it into reality.
Our perforated metal sheets are available in a variety of sizes, materials, hole shapes and colors. Holes are punched by CNC punch and laser cutting to support any creation you create on the panel. We also offer a range of custom processing services such as cutting, welding, bending, splicing and more to provide perforated panels that 100% meet the design needs for any large or small construction project.
Dongfu doesn't only serve China, we have years of experience working with several architectural companies and studios in Australia, the USA, Singapore, Malaysia, and other regions. We clearly understand the differences in architectural styles in each country, and whatever your project vision is, we can quickly and accurately provide a perforating solution that meets your design needs.
Perforated metal is very practical and increasingly popular in the architectural field, and we can turn any of your ideas into reality!