Perforated Metal Fence Panels
Unique exterior design, sturdy and maintenance-free fencing options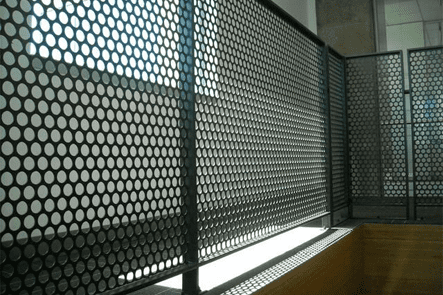 Modern Perforated Metal Fence for Commercial or Residential Use
From the structural point of view, the perforated metal fence is not much complicated, the post, frame, and perforated metal panel can form a set of fence. But it adds a charm to architectural projects that other traditional fences don't have. 
Privacy, security, aesthetics, environmental adaptability, and more are all benefits of perforated metal fencing. All of these benefits come into play when incorporating perforated metal fencing into your residential or commercial property.
With experience in manufacturing high-quality perforated metal fences and design concepts, Dongfu can provide you with any size of perforated metal material to design and manufacture perforated metal panels for use as fences according to your specific requirements.
Why Choose Perforated Metal Fence Panels
In fencing applications, perforated metal can still bring out its many advantages, even some other fences do not have.
Safety and Strength
Regardless of the fencing solution, safety is the primary consideration. Perforated metal fencing is no exception, carbon steel or stainless steel material provides excellent strength and weight to achieve the role of property security protection.
Durability and Longevity
With any construction project, people want it to last as long as possible, especially if it's in an outdoor environment for a long time because no one wants to renovate or maintain it all the time. Metal materials provide excellent durability, aluminum, carbon steel and stainless steel are all popular choices for perforated metal fencing.
When you choose aluminum or carbon steel, we can advise you on the most suitable durable finish including galvanized or powder coated depending on the exposure, air conditions and other factors of your project.
Inseparable Designs
Compared to other fences, perforated metal fence panels are probably the option with the most design space. If you want a sleek and modern design without sacrificing security and durability, then installing a perforated metal fence is the best solution. Even the most common hole types (round, square, etc.) can be combined in different arrangements to achieve a variety of unique designs on the panels.
If you want a more personalized perforated metal fence panel to customize the design to match your building, such as a favorite photo, painting or precious image to create a pattern. We can manufacture the panels from CAD drawings and laser cutting for the most accurate reproduction.
Wide Range of Color Options
When it comes to design, color is never far behind. Perforated metal fence panels can be made in a variety of colors to match the surrounding architectural environment, adding a standout hue or blending into the overall environment.
Diffusion of Air and Light Permeability
While most fences have both of these characteristics, perforated metal fences allow you to adjust the amount of air diffusion and light passage by choosing the perforation pattern that is right for your application.
Privacy Protection
Privacy protection is also common fence can do, but the use of perforated metal fence can add a class while protecting privacy. It adds a degree of beauty to almost any project.
What Do We Provide?
Dongfu can manufacture any size perforated metal panel for fencing applications to any specification you need.
Some Perforated Metal Fence Cases
Perforated Metal Custom Manufacturing Supplier
As a leading supplier in China, we can provide perforated metal products that meet the needs of companies in a wide range of industries. With a wide range of advanced and versatile production facilities, our factory can provide customized perforated metal solutions for all your specialized applications.
Our punching machines can produce perforated plates up to 1.5m wide(any length) and support hole diameters up to 80mm (more than 80mm will be used with laser equipment).
In addition, if you need perforated panels cut to specific sizes and shapes, welded or bent into strange styles, we also have the equipment and capabilities to help you.
Request a Wholesale Quote
Interested in learning more about our perforated sheet metal fabrication capabilities and services? Contact our team of experts.
You can upload your drawings or specifications. Describe your requirements in as much detail as possible and our custom fabrication team will give you the clearest possible quote.