Round Hole Perforated Metal Sheet
Versatility, wide range of applications, durability and ease of manufacture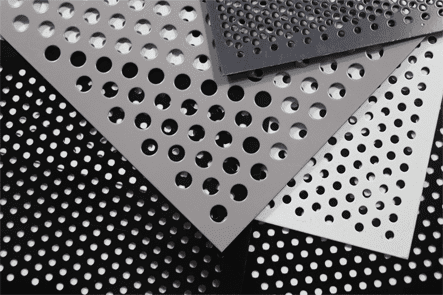 Round Hole Perforated Metal Sheet
Round hole perforated metal is the simplest perforation pattern, easy to manufacture for versatility and without losing aesthetic effect. Therefore, round holes have become the most popular and most common hole type.
We offer material options for round hole perforated metals in aluminum, steel, stainless steel, and various special alloys. Standard hole sizes range from 0.027″  to 1″ in diameter.
And irregular round hole patterns are also available for decorative applications.
The versatility of round hole perforated metal makes it widely used in various industries
Hole Size: 0.027″ – 1.0″
Hole Centres: 0.05″ – 1.25″
Hole Pattern: Straight rows, staggered and arbitrary patterns
Sheet Width: 24″ – 60″
Sheet Length: 24″ – 144″
Open Area: 5% – 63%
Margin Types: Safe margins or no-margins
Benefits of Round Hole Perforated Metal
The many benefits make the round hole pattern the most popular choice.
Easy to Manufacture
Round hole perforated metal is the most basic hole type and the manufacturing process does not require complex technology. So the manufacturing cost is low and the production efficiency is higher.
Economical Perforation Pattern
Easy to manufacture, low production cost, and long service life make it the most cost-effective perforation product in the long run.
Versatility
Although it is the simplest pattern, it also has functions such as ventilation, light transmission, noise control, filtering and screening, and safety protection.
Provide Decorative Effects
Even for the simplest of round holes, we can create many designs for decorative purposes by changing the size and arrangement of the apertures. Turret punching machine and laser perforating machine to help us produce round hole pattern design.
Applicable to Various Industries
We offer the widest combination of hole sizes, specifications, materials and sheet sizes to suit all types of industry applications.
Customization Options We Provide
Metal Materials
We can produce round perforated panels in a variety of high-quality materials including aluminum, steel (carbon and mild steel, galvanized or powder coated), stainless steel, copper, brass and titanium.
Other materials can also be used depending on the needs of your specific application.
Round Hole Pattern: Arrangement
Round hole perforated metal is available in three unique arrangements: 60° Staggered, 45° Staggered and 90° Straight Line. In addition to the different appearance effects, each has its own characteristics.
The 45° staggered hole is the most basic style and is more reliable than the straight hole, but it is not as adaptable as the 60° staggered hole in terms of opening area and hole spacing.
The 60° staggered type of hole is the strongest, most versatile and cost effective.
In order to create a perforated sheet that is more in line with architectural aesthetics. Although the 90° straight hole style is not as durable as the other two, its parallel hole design and arrangement tend to have a more beautiful appearance
More Round Hole Pattern Designs
Round Hole Perforated Metal Application Including
Round holes are the most versatile, so it is possible to offer the widest choice of hole sizes, specifications, materials and sheet sizes for almost all types of applications. You can use round hole perforated metal in many different applications.
Separating ore or rock in mining applications
Security in windows, gates, and doors
Air filtration for electronic equipment
Grinding spices, seeds, and other food products
Noise control of large engines
Enhancing the appearance of retail store displays
Household products such as patio furniture and appliances
Various types of screens and vents
Architecture cladding and ceiling panels
Sunshade and sunscreen
Filter to sieve seed, stone and other bulk materials
Protective fences of overpasses and machine equipment
Balcony and balustrade
Decorative panels
Ventilation sheets, such as air-condition grilles
Perforated Metal Custom Manufacturing Supplier
As a leading supplier in China, we can provide perforated metal products that meet the needs of companies in a wide range of industries. With a wide range of advanced and versatile production facilities, our factory can provide customized perforated metal solutions for all your specialized applications.
Our punching machines can produce perforated plates up to 1.5m wide(any length) and support hole diameters up to 80mm (more than 80mm will be used with laser equipment).
In addition, if you need perforated panels cut to specific sizes and shapes, welded or bent into strange styles, we also have the equipment and capabilities to help you.
Request a Wholesale Quote
Interested in learning more about our perforated sheet metal fabrication capabilities and services? Contact our team of experts.
You can upload your drawings or specifications. Describe your requirements in as much detail as possible and our custom fabrication team will give you the clearest possible quote.