Slotted Hole Perforated Metal Sheet
Filtration and screening products that maintain high strength and performance
Slotted (Capsule) Hole Perforated Metal
A thin and long hole shape. Slotted perforated metal pattern is an extended hole with round or square ends.
This hole shape is designed with the concept of allowing the necessary amount of material to pass through the metal sheet while maintaining the desired strength and performance characteristics.
Slot Width: 0.125″ – 0.2″
Slot Length: 0.1″ – 0.75″
Slot Shape: Round end and square end
Slot Side Bar: 0.125″ – 0.25″
Slot End Bar: 0.125″ – 0.25″
Hole Pattern: Straight rows, staggered and arbitrary patterns
Sheet Width: 36″ – 48″
Sheet Length: 24″ – 120″
Thickness: 14 gauge – 22 gauge
Open Area: 41% – 74%
Benefits of Slotted Hole Perforated Metal
Different hole types can change the characteristics of sheet metal to a great extent.
Decorative Appearance
Any perforation pattern can be used for decorative purposes, and slotted holes are no exception. Oval or rectangular slotted holes, both designs provide a distinct, unique look for the final application.
Functional Design
Slotted perforated metal has a special design that allows a large amount of material to pass through without adversely affecting the overall strength and performance of the metal sheet.
Available Materials
The most common materials used for slotted perforated panels include mild steel, carbon steel, stainless steel, aluminum, copper, brass and any other material suitable for perforation.
Aesthetic Hole Patterns
Within the slotted perforated category, we can use the corresponding arrangement according to your specific application needs. The pattern can be changed in many ways, round or rectangular slotted holes are available in a variety of arrangements including staggered and straight.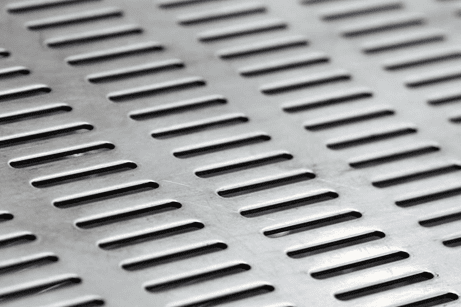 Various Applications
Wall & Ceiling Panels
Safety and Security
Diffusers, Strainers and Grills
Cladding and Sunshade
Screens and Vents
Ventilation of Air, Light, Sound and Gases
Fences and Protective Panels
Decorative Applications
Act as sieves for grain & seeds cleaning and drying machine
Anything involving the efficient separation of liquids and solids
Perforated Metal Custom Manufacturing Supplier
As a leading supplier in China, we can provide perforated metal products that meet the needs of companies in a wide range of industries. With a wide range of advanced and versatile production facilities, our factory can provide customized perforated metal solutions for all your specialized applications.
Our punching machines can produce perforated plates up to 1.5m wide(any length) and support hole diameters up to 80mm (more than 80mm will be used with laser equipment).
In addition, if you need perforated panels cut to specific sizes and shapes, welded or bent into strange styles, we also have the equipment and capabilities to help you.
Request a Wholesale Quote
Interested in learning more about our perforated sheet metal fabrication capabilities and services? Contact our team of experts.
You can upload your drawings or specifications. Describe your requirements in as much detail as possible and our custom fabrication team will give you the clearest possible quote.