Architectural Perforated Metal Ceiling Tiles
A more modern and environmentally friendly alternative to traditional ceiling tiles and with ventilation and noise reduction features.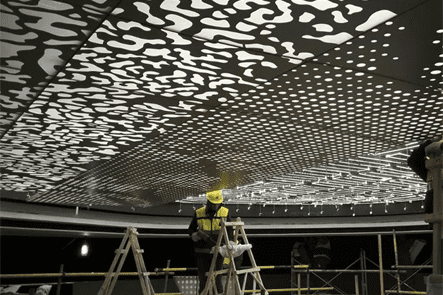 Custom Perforated Metal Acoustic Ceiling Tiles Panels
As a modern new building material, more and more commercial and retail building construction projects are using perforated metal ceilings. The panels are made of metal sheets with various decorative holes or patterns and can be modularly designed for easy installation and removal. It gives a clean, professional and modern look compared to traditional materials and is durable and more environmentally friendly.
As a professional manufacturer and supplier of perforated metal ceilings in China. When your project is more focused on design and innovative aesthetics, Dongfu can provide the necessary technical advice to make your ideas a reality. Our perforated metal panels can be used for ceilings in malls, restaurants, office buildings, government buildings, hospitals, airports and other types of large commercial buildings.
Benefits of Perforated Metal Ceilings
Benefits of Perforated Metal Ceilings
When choosing perforated metal panels for your ceiling, you should learn more about its advantages and features. This will help you to tailor it more specifically to your project needs.
Create Unparalleled Visual Effects
The flexibility of manufacturing and ease of processing allows perforated metal ceilings to achieve almost any design concept. Not only unlimited perforation patterns but also the overall structure of the appearance can be changed, such as three-dimensional effects, irregular shapes, etc.
Ventilation and Light Permeability
Ventilation and light transmission are equally important for ceiling, where air and light can circulate freely in the room.
Durability and Fire Resistance
Metal materials are much stronger than other materials. They are less prone to cracking and damage, and they are unlikely to need to be replaced. And the fire resistance is unmatched by traditional materials.
Acoustic
It also reduces noise because the perforations allow air to pass through the holes, thus reducing the rate at which sound is produced. Perforated metal ceilings are ideal for optimizing acoustics.
Dongfu Offers Perforated Metal Ceiling Panels with Multi-dimensional Custom Design Options
With our advanced production facilities, our factory provides you with the most professional and comprehensive custom manufacturing options.
Some Perforated Metal Ceiling Case
Perforated Metal Custom Manufacturing Supplier
As a leading supplier in China, we can provide perforated metal products that meet the needs of companies in a wide range of industries. With a wide range of advanced and versatile production facilities, our factory can provide customized perforated metal solutions for all your specialized applications.
Our punching machines can produce perforated plates up to 1.5m wide(any length) and support hole diameters up to 80mm (more than 80mm will be used with laser equipment).
In addition, if you need perforated panels cut to specific sizes and shapes, welded or bent into strange styles, we also have the equipment and capabilities to help you.
Request a Wholesale Quote
Interested in learning more about our perforated sheet metal fabrication capabilities and services? Contact our team of experts.
You can upload your drawings or specifications. Describe your requirements in as much detail as possible and our custom fabrication team will give you the clearest possible quote.