Perforated Metal Ceiling Tiles
Easy on The Eye and Easy on The Wallet. Metal Ceiling Tiles are one of The Most Cost-Effective Commercial Ceiling Solutions Available!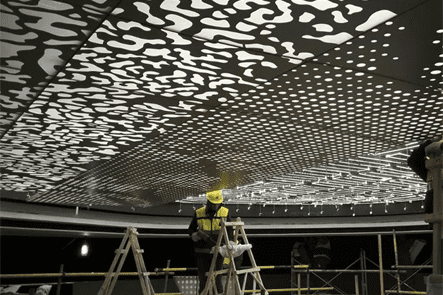 Options for Perforated Ceiling Metal Tiles & Panels
Using aluminum metal ceilings can improve the lighting in a room, as light reflecting from the walls and other surfaces pass through the holes of the roof and back into the room, mainly when daylight is limited.
Because it has several unique properties for construction projects, like easy installation and removal, modular design, easy maintenance, excellent fire prevention, sound absorption, etc., perforated metal ceiling tiles are distinctive from other materials.
Consider using perforated ceiling materials to add a modern touch when a place or space is designed or renovated. 
Consider using Perforated Metal Ceiling Tiles to make a difference with your next project.
To Get a Quote, please get in touch with Us Today.
Why Are Acoustic Metal Ceiling Tiles Better Choice for architectural use?
Micro-perforated ceiling tiles are a great way to add texture and light to your ceiling. These tiles come in a variety of shapes, sizes, and styles. Can use them in many different ways, such as covering the entire ceiling or just covering one area of the ceiling. The benefits of Perforated Metal Ceiling materials include the following: 
Raised perforations on the underside of the tile provide a decorative and dry surface

Customizable options include color and grid pattern size at a reasonable price

Non-reflective, anti-corrosive material which can be easily cleaned.

Each tile is made from galvanized steel with a 3.5mm thickness

Easy installation with included ceiling grid system

Allows natural daylight to shine through

Create a dramatic look without the expense and hassle of drywall, insulation, or ceiling tiles.
Easy to use and versatile, whether used to hide the ceiling underneath or create an original and memorable design feature.
Places Where Everyone Wants to Use Metal Tiles!
Perforated metal ceiling tiles are likely used in commercial and industrial settings, such as office buildings, schools, hospitals, and factories. Perforated metal tiles are an excellent choice for any home or business. These tiles are durable and can withstand heavy traffic areas such as hallways, restaurants, hotels, and office spaces. Metal perforated ceiling tiles are commonly used in a variety of settings, including:
Commercial kitchens
Hospitals
Schools
It makes them ideal for bathrooms and kitchens where there may be water leaks and keeping them dry in wet areas such as basements and garages.
The retail store's perforated metal ceiling panels are ideal for these settings because they are more durable, easy to clean, and provide excellent ventilation.
It's Time To Get Creative With Your Ceiling.
Whether you're a construction company or a home builder, there's a reason why you've been looking for an easy way to add some pizzazz to your space without all the hassle and expense of drywall, insulation, or ceiling tiles.
Design attractive and low-cost acoustic ceiling. It's very easy to install compared to other ceiling materials.

we can be customized in any color or pattern at a reasonable price.

Acoustic ceilings allow natural daylight to shine, creating a comfortable working environment.

They're also made from galvanized steel with an anti-corrosive material that can be easily cleaned and allow natural daylight, creating a dramatic look without the expense of drywall or other materials.
The tiles are made from non-corrosive material that can be easily cleaned and will not rust over time.
Some Metal Ceiling Solutions for Your need!
Metal mesh ceilings allow you to maximize the functionality of your roof.
Perforated metal ceiling panels are stronger than others. They crack less and need replacement less often.

Sound affects your capacity to keep inhabitants safe and comfortable. Mesh ceilings improve acoustics.

Security and durability don't have to compromise aesthetics. Perforated drop ceiling tiles are modern and elegant.

It is widely used in appearing and superior quality and versatile building materials for its surface strength, durability, attractiveness, and affordability.
With our advanced production facilities, our factory provides you with the most professional and comprehensive custom manufacturing options.
Some Perforated Ceiling Cases
Perforated Metal Custom Manufacturing Supplier
As a leading supplier in China, we can provide perforated metal products that meet the needs of companies in a wide range of industries. With a wide range of advanced and versatile production facilities, our factory can provide customized perforated metal solutions for all your specialized applications.
Our punching machines can produce perforated plates up to 1.5m wide(any length) and support hole diameters up to 80mm (more than 80mm will be used with laser equipment).
In addition, if you need perforated panels cut to specific sizes and shapes, welded or bent into strange styles, we also have the equipment and capabilities to help you.
Request a Quote for Wholesale
Perforated metal ceiling tiles are modern new materials used in various commercial, retail, and residential construction projects. These are available in a variety of styles and sizes. You can choose from many dimensions depending on what you need for your project. You can also choose between smooth or textured finishes on these tiles.
In addition to the benefits listed above, perforated metal ceilings offer advantages over other ceiling materials.
They give a clean, professional, and modern look compared to traditional materials and can be cleaned by a simple wipe-down with a damp cloth.
Dongfu is committed to providing you with the best service we possibly can and stands behind our products.
Don't hesitate to contact us today, To get a Wholesale quote or book an appointment.