Perforated Metal Materials
Almost Any Material Can be Perforated. Choose the most suitable material for your project needs.
Choose the Right Perforation Material for Your Project Needs
Perforated products made from different metal materials vary in cost, performance, durability, and safety. Choosing a perforation material that corresponds to your specific needs will help your project to be completed better. We will provide detailed information on each metal material, cost, strength, properties, durability, and more. You can keep an eye on this page or tell us your specific use for the best advice.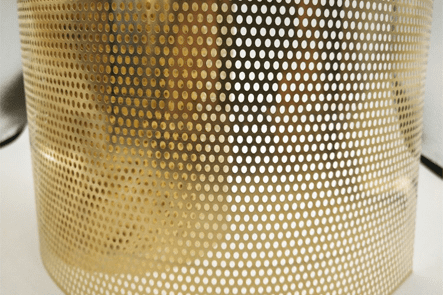 Compared to copper, brass is alloy material, using zinc as the main additive element. This increases strength and hardness, and at the same time has excellent corrosion resistance.
The Thing that will help in choosing the Best Material for Perforated Metals
All metals are different: some are better suited to specific indoor and outdoor applications than others. Consider first how the metal will be used – decorative or functional – before choosing the type of metal. Should it be indoors or outdoors? Discover the best material for perforated metal below. When purchasing perforated material, there are several sizes, shapes, materials, and gauges to specify, all of which can impact the manufacturing process, quality, cost, and lead time of the completed product.
Many factors will help you to choose the best material for perforated metals. It depends on where you'll use it. You should also need to know about the environments of your required areas. Here are some factors you should know before selecting the material for perforated metal. There are ways to choose the best material for perforated metal.
Check Nature of Perforated Metals
Perforated metal is solid and long-lasting. Various coatings can be applied to improve the look and lifespan. HVAC air diffusers, acoustical panels for noise control, aesthetic architecture, and filter media or support in water filtration are all applications for perforated metal. It is frequently used in applications that need light and sound control.
Each form of a perforated metal sheet can have a different pattern, each intended to serve a distinct purpose. Architectural designs are elaborate, ornamental, and visually pleasant. The themes are more traditional and homogeneous for industrial applications such as filtration, drainage, and screening.
Staggered patterns can have finished or unfinished end patterns, with unfinished end patterns being the most common. The holes in an unfinished design are incomplete towards the end of the sheet. It enables sheets to be arranged in a continuous pattern between sheets.
A margin refers to the area around the edge of a sheet that extends to the first perforation. It depends on your environment which one is the best-suited material for perforated metal.
The Metals Used for Perforation
Through the perforation process, metals in a limitless number of shapes and sizes can be machined and shaped. It is essential to consider how will use them in selecting metals. Various durable, strong, and sturdy metals are used in industrial processes and structural applications.
It has been proven that lightweight metals, such as aluminum and copper, can quickly be stamped and punched by the perforation process. For harder metals like steel and titanium, you will need to use a more aggressive method to perforate the surface.
Here we will recommend you some materials that which is used to produce perforated metals.
Perforated metal is a good choice for outdoor applications. It is primarily due to aluminum's stability to withstand natural element corrosion, which can withstand rain and certain chemicals without compromising its looks or structural integrity. Similarly, aluminum is ideal for places where temperatures are below freezing.
However, excessively high temperatures beyond 400 degrees Fahrenheit might cause the fabric to lose part of its strength. Other advantages of perforated aluminum are:
It is lightweight compared to other metals such as steel and copper.
Making the material easier to install with fewer attachment points.
Undoubtedly, iron is one of the oldest metals and has been used for a wide variety of purposes over the years. The material is solid and can withstand any stress that may be applied to it. The use of iron for perforated applications is every day and has been adapted over the years to meet the requirements of modern designs.
Brass is a zinc and copper alloy which has a variety of qualities due to the combination of the two metals, including greater strength, hardness, and corrosion resistance. Brass, like copper, is readily penetrating. It has a highly enticing gold-like shine that adds to its overall appeal. Brass's durability makes it suitable for both utilitarian and aesthetic purposes.
Perforated copper sheets are visually appealing. They are perfect for interior design and decorative applications. When unfinished copper is exposed to the environment, it creates a corrosion-resistant outer surface of copper carbonate with a greenish color. Copper has an infinite life cycle and is easily recycled.
Galvanized steel is an excellent material for use in hostile and severe situations since it is corrosion-resistant, cost-effective, and solid. Steel is a reasonably robust material, but it rusts when exposed to the elements. Galvanized steel has a strong zinc coating that prevents corrosive factors like moisture, water, and humidity from penetrating. It possesses strength and endurance like steel and the ability to tolerate harsh circumstances.
Nickel alloys' composition is used for indoor and outdoor applications. Nickel has greater strength and durability than most metals, which is why it is valuable in building applications. It can tolerate high temperatures and is resistant to corrosion. Nickel is an excellent metal for damp, humid, or moist conditions.
Because of its strength, corrosion resistance, and aesthetic appeal, stainless steel may be employed in almost every application. The corrosion resistance of stainless steel is due to its steel component being alloyed with chromium which aids in creating ferric oxide. The proportion of chromium and other metals in stainless steel determines the various grades.
The titanium grades utilized to make perforated metals are TA1 and TA2. Titanium is one of the most potent metals, with an extremely high strength-to-weight ratio which contains an oxide coating that protects it against corrosion. It has 40% less weight than steel and 60% more than aluminum. Although, Titanium's light weight makes it a suitable metal for structural purposes.
However, The cost, performance, durability, and safety of perforated objects are constructed from various metal resources. Choosing a perforation material that matches your demands will aid in completing your project. We will give extensive information about each metal material, including its cost, strength, qualities, durability, and other characteristics. Keep an eye on this page or contact us with your application for the best advice. Hope this article will help you to choose the best materials for perforated metals.