Perforated Metal Facades and Cladding Panels
The ideal material to meet the demands of modern architectural design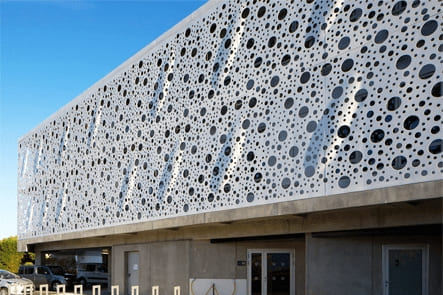 Architectural Perforated Metal Facades and Wall Cladding Panels
The decoration of building facades increasingly needs to be creative and sustainable; simple materials and structures are no longer sufficient to meet the demands for aesthetic and high-end architecture.
Perforated metal panels are an environmentally friendly decorative material that meets the requirements of most modern buildings. Especially when used as a building façade and cladding, it is a product that can combine function with aesthetics.
If you are looking for such material for upgrading or redesigning a building project. Then perforated metal panels are definitely a solution that you should try.
Why You Should Choose Perforated Metal Panels for Facades and Wall Cladding?
Perforated metal building facades and cladding panels offer not only aesthetic appeal but also many functions and features
An environmentally friendly, low-cost building material.
Perforated metal sheets are light in weight but strong in strength.
Corrosion resistant to protect buildings from harsh weather conditions.
Almost unlimited design and creativity possible.
Wide range of textures, finishes and colours to match your overall architectural style.
Can be cut to exact size, adjusted and removed for freedom of alteration.
Provides privacy and light for the building occupants.
Has a dampening effect on road noise.
What Customisation Options Do We Provide for You?
Any product used to create an aesthetic appearance is design focused and our product team can offer you a wide range of customizable services to meet the unique needs and specifications of your project. Send us your specific requirements and designs to further explore better solutions.
Some Building Facades & Cladding Panels Cases
Perforated Metal Custom Manufacturing Supplier
As a leading supplier in China, we can provide perforated metal products that meet the needs of companies in a wide range of industries. With a wide range of advanced and versatile production facilities, our factory can provide customized perforated metal solutions for all your specialized applications.
Our punching machines can produce perforated plates up to 1.5m wide(any length) and support hole diameters up to 80mm (more than 80mm will be used with laser equipment).
In addition, if you need perforated panels cut to specific sizes and shapes, welded or bent into strange styles, we also have the equipment and capabilities to help you.
Request a Wholesale Quote
Interested in learning more about our perforated sheet metal fabrication capabilities and services? Contact our team of experts.
You can upload your drawings or specifications. Describe your requirements in as much detail as possible and our custom fabrication team will give you the clearest possible quote.