Turn Your Historical Building into A Work Of Art & Decorate Your Walls With Our Antique Perforated Brass Sheets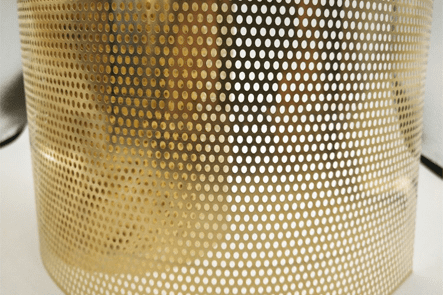 Our Top Few Picks for Perforated Brass Sheets
Perfect for use as a vapor barrier, sound attenuation, rain screen cladding, and air barrier.
It is available in numerous sizes, thicknesses, and finishes
Non-rusting, anti-corrosion band with a variety of casing options
Work on a range of weather conditions with a great look.
These are available in all shapes, sizes, colors, and Design
It is used in Architecture, Design, and Ventilation Systems in Residential and commercial.
We offer high-end Antique brass sheets for a very affordable price. We also offer fast shipping, customer support, and a money-back guarantee.
Get Your Classy, Metallic Walls Today!
What Makes a Brass Perforated Metal Sheet Unique?
Some features that make brass metal sheets stand out from other thin metal sheets:
It protects against mold and mildew growth, prevents water damage, and stops the spread of fire.

Lightweight, Easy to install, and more durable

These Sheets Enhance your overall look and Make it shine

Absorbing Sound, reducing emissions, and reducing echoes enhance acoustics.

Also, it bends well and is easy to shape and work with.

In addition, it is Recyclable and Safe for the Environment.
Diverse Features of Perforated Brass Sheet
The brass perforated Sheet is aesthetically appealing; it has improved hardness, strength, and wear resistance compared to copper.
Decorative perforated brass sheets

create a dynamic, modern rhythmic look that complements any structure.

A high strength-to-weight ratio allows them to survive harsh weather and equalize pressure.

By balancing light and ventilation,

perforated metal panels

enable architects to control internal heat gains.

In addition to its structural capabilities, one of the numerous reasons to use

perforated sheet metal

is its aesthetic appeal.

Brass sheeting

metals

are lighter in weight than solid forms and patterns due to their hollow construction.
Why Can You Select Brass Metal Sheets?
Do you still need clarification to choose or buy brass plates for your unique Design? Here are some extra benefits that will force you to take it.
No side effects for health and easy to clean

Air and light can pass through easily.

A sheet of brass can protect your house and office's privacy.

Keep your residential and commercial beauty for a long time. 

Several uses are possible and it is easy to install.
So why choose perforated metal over other materials? For one, the unique pattern created by the holes is eye-catching and sure to garner attention. But beyond aesthetics, perforated metal also offers superior durability and strength. 
What varieties of perforation are there?
We supply all types of decorative perforated sheets in different materials, including mild steel, carbon steel, stainless steel, aluminum, copper and brass, etc.
1. Mild Steel Perforated Sheet
It is used For ventilation grilles, drying grids, and infill plates. It allows the passage of light, air, liquid, and Sounds through its openings.
They are strongly alloyed and have a resistance to corrosion that helps produce signboards, filtering plates, screens for cement slurry, and numerous others.
3. Alloy Steel Perforated Sheet
It is used to develop fencing screens and machine drying baskets.
Provide Custom Manufacturing of Perforated Metal Sheets
Our perforated metal products are used in a wide range of industries all over China. We have specialized production facilities that can provide you with customized perforated metal solutions. With a diverse range of punching machines, we can produce perforated plates up to 4×8 brass sheet metal.
If you are looking to buy an industrial-grade perforated brass sheet at an affordable price, you should start looking in the right places. You'll get excellent customer service, and you can expect it to be delivered quickly.
We can provide customized perforated metal solutions for all your specialized applications. Whatever your needs, our experts will help you find the perfect perforated metal product for your industry.
Request a Wholesale Quote
Whether you're looking for window guards, stair treads, or an elegant design solution, we have what you need. If you are still looking for the material you want to be listed above, feel free to contact us to discuss your needs. Brass sheet metal is a great way to add ventilation, light, and style to your project. Request a Wholesale quote today, and our team of experts will get back to you as soon as possible.