Stunning visual effects and offers trust in decorative and durability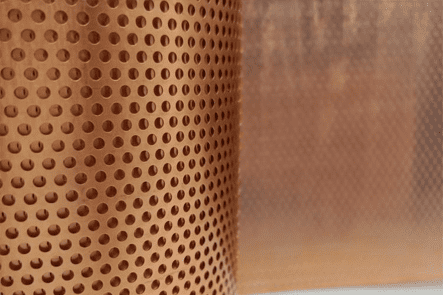 Perforated Copper Metal Used for Decorative Purposes
Copper can also be used as a building material, and while it is not as strong and hard as steel or stainless steel, the superior appearance is visually stunning.
Perforated copper panels also serve the same purpose, whether for architectural structures, interior or exterior design, and furniture to create an atmosphere of noble appearance. Coupled with different styles of textured designs, perforated copper panels are becoming increasingly popular with modern architects and designers.
Dongfu mainly provides perforated copper panels for various architectural applications, and as with other materials, custom patterns, plate shapes, thicknesses, sizes, etc. are available.
Characteristics of Perforated Copper Panels
Durable and Corrosion Resistant
All metal materials used outdoors must have excellent corrosion resistance. Copper is no exception. It will not rust even when unfinished and exposed to the atmosphere, and a green, highly corrosion-resistant outer layer of copper carbonate will form on the surface.
Ductility and Malleability
The softer texture of the perforated copper sheet provides better ductility and is easier to process and manufacture. This also makes it easier to make various architectural structures or panels for decoration.
High-grade Appearance
Perforated copper sheets for decorative purposes have a naturally noble appearance in color. And we usually polish the visible side as well to provide a superior appearance, such as bright polished, reflective or matt polished.
Environmentally Friendly
Copper has an almost unlimited lifetime, making it a highly sustainable choice. And it can be recycled, and of course made from recycled materials, making it a very environmentally friendly material.
Perforated Copper Sheet Applications
Interior or exterior decorative use.
Decorative elements on the building structure.
Can be used for ceilings, stair railing panels, building facades, louvers and ventilation, sunshades, partition walls, merchandise shelves, curtain walls, etc.
EMI and RFI shielding can also be provided for sensitive electronic equipment.
Perforated Metal Custom Manufacturing Supplier
As a leading supplier in China, we can provide perforated metal products that meet the needs of companies in a wide range of industries. With a wide range of advanced and versatile production facilities, our factory can provide customized perforated metal solutions for all your specialized applications.
Our punching machines can produce perforated plates up to 1.5m wide(any length) and support hole diameters up to 80mm (more than 80mm will be used with laser equipment).
In addition, if you need perforated panels cut to specific sizes and shapes, welded or bent into strange styles, we also have the equipment and capabilities to help you.
Request a Wholesale Quote
Interested in learning more about our perforated sheet metal fabrication capabilities and services? Contact our team of experts.
You can upload your drawings or specifications. Describe your requirements in as much detail as possible and our custom fabrication team will give you the clearest possible quote.